Stray Cat with Rare Thyroid Disorder Discovered in Canada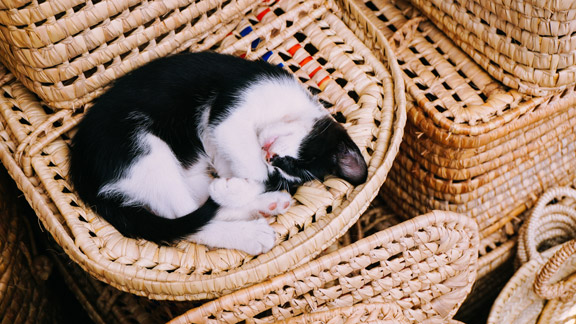 When Oreo the black-and-white cat went to Jacobsen Vet Services in Kelowna, Canada for a routine neuter surgery, he took veterinarians by surprise—he only weighed five pounds.
"Just by looking at his physical attributes, I was a little bit concerned," Dr. Julia Gray told Radio West host Rebecca Zandbergen, noting his nose had little definition and his eyes were off. "We decided we needed to do some testing."
Testing revealed that something was in fact very seriously wrong with Oreo—his body wasn't producing the thyroid hormone. Turns out, he suffers from a rare thyroid condition called congenital hypothyroidism, a thyroid hormone deficiency present at birth. The condition is so rare in fact, Dr. Gray says she could only attribute there being 60 cases in cats being documented.
Despite his condition, Oreo's prognosis is good. Gum tissue has prevented his adult teeth from growing in, something that is commonly seen in humans with congenital hypothyroidism, but never in cats before.
As for Dr. Gray, she hopes to write a paper with her partner about Oreo and their work with the cat, hoping it might help humans with the same condition. Once Oreo responds to treatment, he will eventually be available for adoption.
No comments yet.
Leave a comment!